A DOG NAMED CALI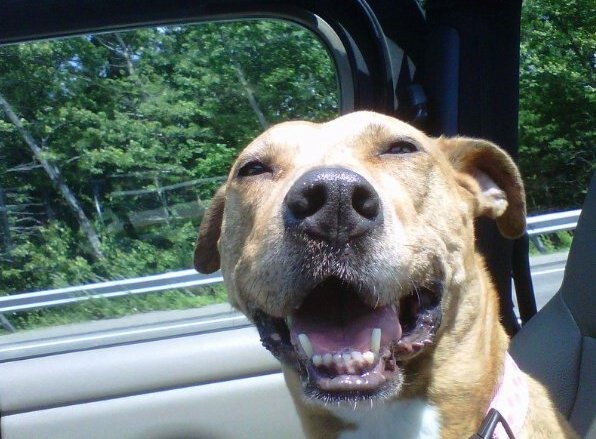 One of the things we at 'A Dog Named Charity' love hearing is other people's rescue stories. Each story is unique yet with the same conclusion – the rescuer can not imagine life without their rescue dog.
Michelle believes she found Cali at the New Haven Animal Shelter in New Haven, Connecticut and she couldn't be more grateful. Here are her words:
"I adopted Cali in the Spring of 2006, my senior year of college. She was a shy, timid six month old pitbull found as a stray on the streets of New Haven, Connecticut. It didn't take Cali long to come out of her shell. With lots of love and A LOT of training, Cali became my perfect partner in crime. We've had so many adventures in my Jeep with the top down, we've hiked mountains, we've gone on a lot of long boat rides, we've moved to many different apartments, we've even moved to Portugal and back. It hasn't always been easy, especially moving and introducing a pitbull to so many, but she breaks all of those stereotypes. Cali has been my "partner in crime" for more than eleven years. She is truly my best friend."
Cali lives a better life because of Michelle. Michelle was able to find her partner in crime because of people who work or volunteer at places like the Friends of New Haven Animal Shelter (who is a 'vital non-profit organization that provides numerous essential services in support of New Haven's animal shelter community, particularly in terms of promoting animal adoption, raising funds to help cover the costs of sheltering animals, and providing animal socialization'). Check out their website below – you could find a Cali of your own!
http://findafriendforlife.org/